Coeur Côte Fleurie
The federation of municipalities « Cœur Côte Fleurie » is composed of 11 towns
Bénerville-sur-Mer

Blonville-sur-Mer

Deauville

Saint-Arnoult

Saint-Pierre-Azif

Touques

Tourgéville

Trouville-sur-Mer

Vauville

Villers-sur-Mer

Villerville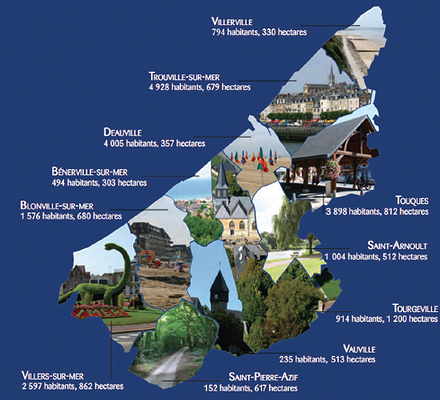 The federation represents a total population of 20,564 inhabitants and 120,000 in the summer, according to the 2007 census.
Among these 11 towns, some are famous seaside resorts such as Deauville, known for, among other things, its beach dotted with colorful umbrellas and its casino. Trouville-sur-mer, equally famous fishing port and place to meet for famous artists. Villerville, which inspired many painters, such as Boudin, Daubigny, etc., and filmmakers, including the crew of the film "A Monkey in Winter". But also Villers-sur-Mer, a family resort.
Cœur côte fleurie, like all other French federation of municipalities, has got two main skills :
The spatial planning (urban planning)
Economic development (employment and training)
In addition, it has four optional skills :
The environment protection and enhancement (sorting, composting, awareness)
Housing and living environment policy (habitat)
The creation, development and maintenance of roads (roadworks)
The community interest facilities (multipurpose fitness centre, leisure park, Odyssey Paléospace).
Last edited: 28/02/2020