Sculpture in nature workshops: "Land Art"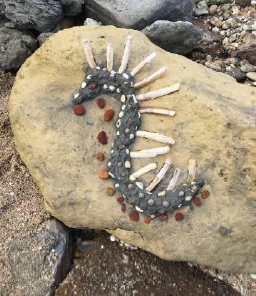 Sculpture in nature workshops: "Land Art"
On 16/07/2021 at 10:00
La Cabane Bleue - VILLERVILLE
Free
In the sixties, a new trend appears: LAND ART: nature is no longer only represented, it is at the heart of it that the creators work, by directly using the materials it offers and which constitute it. : wood, stones, sand, water, rocks, clays, etc… and by creating works by nature ephemeral since erosion, wind, tides, disperse or transform them.
Only photos or videos keep track of it.
The VILLERVILLE landscape lends itself particularly well to this practice: The PLAGE DES GRAVES, with its outcropping rocks, its stirred shells, its driftwood, its loose clays and its gushing sources, is a real open-air workshop, an invitation to create .
Observe the place, leave a trace, sculpt clay, offer new leaves to dead wood, line up shells that become a mosaic ... Everyone will find their own inspiration on site.
Workshop led by Emmanuelle Mellot Kristy, Deputy Mayor.
La Cabane Bleue
Plage des Graves, 14113 VILLERVILLE